PRE-FAB
Workshop
Where STEM education intersects social innovation!
PRE-FAB, which stands for pre-fabrication, is a workshop hosted by Form5 Prosthetics in collaboration with various educational institutions. PRE-FAB provides an opportunity for high school students to learn, iterate, and apply their skills! Additionally, high school students are exposed to careers in engineering, design, and medical-oriented fields that empower others. Over the workshop, three teams of students work to build and enhance pre-fabricated prosthetic kits based on specific design requirements.
Form5 is proud to announce that two PRE-FAB Workshops are planned for the 2022-23 academic year! There will be one Fall 2022 workshop and one Spring 2023 workshop.
How It Works:
Education institutions connect with Form5 to purchase its curriculum to offer to their students.
If your institution is looking for financial support in hosting a Form5 Workshop, contact our team so we can explore ways to bring this incredible experience to your students.
Keep reading to get a peek at Form5's inaugural PRE-FAB Workshop!
Over Memorial Day 2022, Form5 teamed up with The Bakken Museum in Minneapolis, Minnesota on the creation of an exhibit where Minneapolis High School Students were engaged with Form5's STEM curriculum! Down below, you'll see a quick recap of their day to day activities spanning across the duration of the workshop.
Workshop Day 1: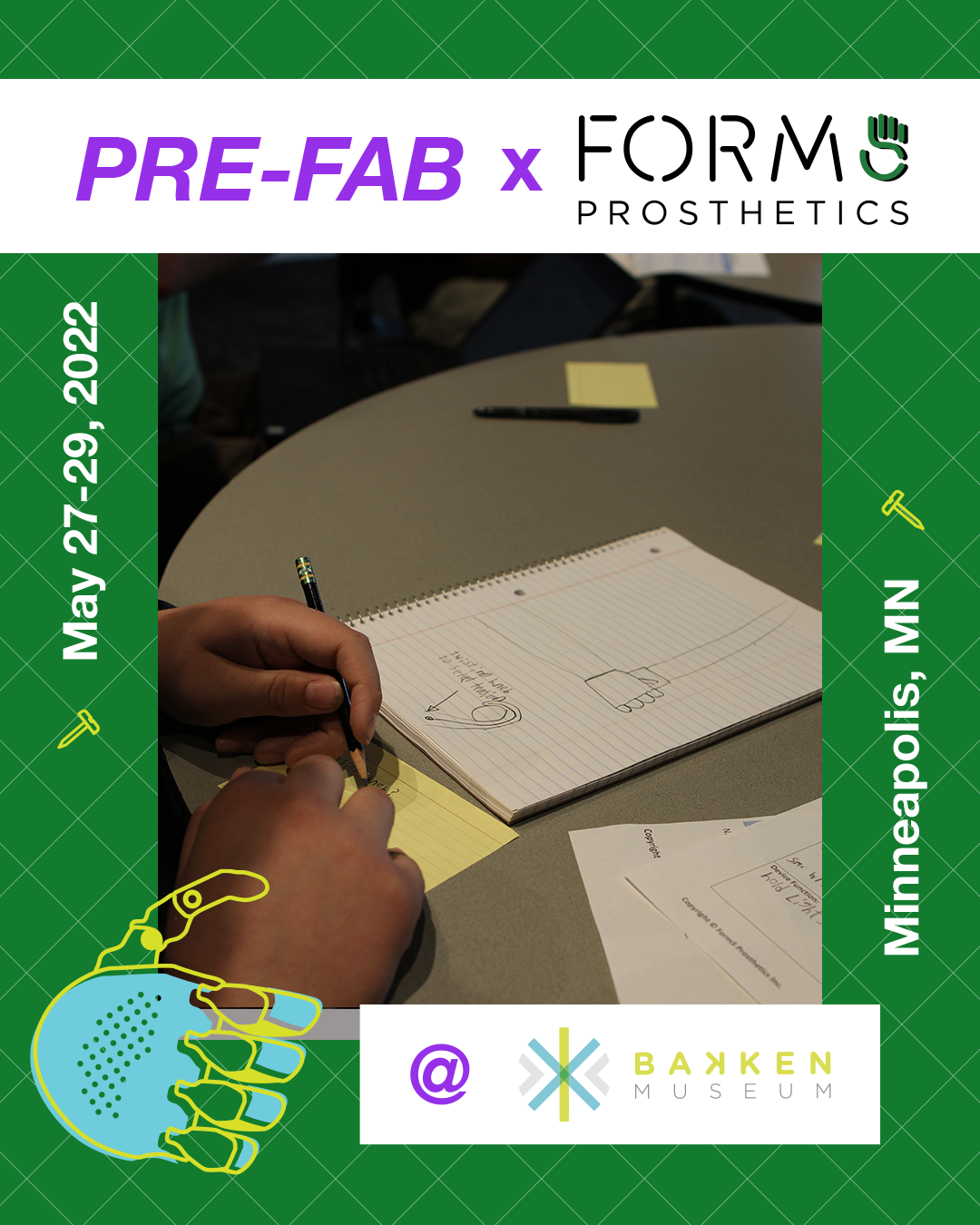 Day 1 of the PRE-FAB Workshop included students being engaged with presentations on Form5 and disability culture, alongside an empathy and ideation session to help map out the rest of their workshop experience!
Workshop Day 2:
Day 2 of the PRE-FAB Workshop flew right by for these students as they worked to ideate, create mock-ups in CAD, and even begin the process of 3D printing their prosthetic builds!
Workshop Day 3:
On the third and final day of the PRE-FAB Workshop students continued to design, print, assemble, and make their prosthetic designs a reality!
The success of Form5's PRE-FAB Workshop wouldn't be possible without its Workshop Committee and their dedication to providing this opportunity to students. Although our inaugural event took place over a weekend, our Workshop Committee is willing to modify the event timeline to fit your institution's academic schedule.